I've been toying around with my summer goal ideas for awhile now, and when I realized late last week I have exactly 58 days, from today right now, until swim suit time, I realized it was time to put some goals in writing! For me, there's one way to make goals a reality: start a challenge and set up some deadlines. Got to have a mark to reach for!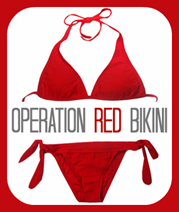 Long time Elle Noel readers will remember the long running challenge from last spring,
Operation Red Bikini.
The entire challenge accumulated into a giant give away and link up opportunity for us all to share in our summer success! The idea is really simple,
What is your goal for summer? What will make you feel your best come swim time this summer?
What are you going to do to get there?
Last year, I really felt I had reached the fittest I could ever be. I was pumped with my success and felt awesome all summer long. Through lots of hard work and overcoming a few set backs, I've been able to maintain that success and increase my physical fitness. I'm still in shock most days over what I can do, and how confident I feel. Still I'm left feeling like,
What's Next?
This may come as a surprise, but after my half marathon on March 30, I'm going to take a break from running. That's not to say, I'm not going to run, I am always going to run, but I'm not going to actively train for a race. I'm going to cut back on distance running. I've been doing a lot of research in regards to long, steady cardio sessions (ie an hour plus running more than once a week) and it's effect on a persons metabolic rate. I feel my metabolism needs a change up. As of right now, I do plan to train for, and if all goes well, run the marathon again next year. However, my exercise routine is lacking variety. I have been actively training for a race since July, and I'm tired. I don't ever want to feel like I dislike running. I need a little hiatus! Variety is the spice of life- things my Momma says
I'm shifting focus to strength training. Heavy strength training. I've been shifting that way since my
knee injury
in January, and I'm loving the way it feels to be strong. To get stronger. To do more each week than I have the previous week. Since joining the new gym, and being surrounded by so many people who inspire my fitness, I'm super excited to see what my body can do. I've got two and half weeks left until the Half marathon, and so far I've been able to incorporate more strength training daily. Something I couldn't do while Marathon training. I don't feel like I got stronger during Marathon training. I feel like I maintained and ran off the rest.
35 -40 miles a week is a lot of miles yo.
All that said, I'm looking for a summer challenge. I want to bring back
Operation Red Bikini
, last year's swim motivation. I'm down to bring back the exact same challenge, start the
Instagram
#operationrebikini thread, part deuax.
My Operation Red Bikini goal is to be able to squat 150lbs. I want to complete atleast one set of six 150lbs squats by July 1st. That's my #Operationrebikini goal. Right now, I'm squatting 67lbs, it's not a lot but everyone has got to start somewhere!

Who is down for Operation Red Bikini part deaux? Challenge yourself! You won't ever regret it, that I can promise with absolute certainty!