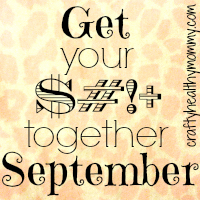 Get your shit together September complete! Huge thank you to Amber for hosting the challenge which I have loved! I was able to motivate myself to shed those pesky summer pounds and I'm back at my happy weight. My focus going forward will be to place emphasis on my fit level and maintaining where I am presently. I have a feeling I'll continue to lose as I train for the marathon and upcoming races, just as it's comes with the territory when logging so many miles. During this second round of half training, I have not found my appetite to be increasing rapidly with added mileage. It's a miracle! During round one, I recall being increasingly hungry each week, which isn't happening this go round. Thank goodness. Generally speaking, I find training for a 10k to be better for weight loss, as it's not a ton of mileage, so you never have the overwhelming urge to eat your own arm post long run. I am not exaggerating.
New month, new goals! Half marathon number two is less than two weeks out, eeek so excited! I know once I'm standing at the start line, surrounded by all the other crazy people who think running 13.1 miles seems like a great way to start the day, I will forget all about these hot runs. I will forget that I've been sweating so much outside my acne is worse than it was when I went through puberty. I'll forget about that time I had to call my Mom to swoop me off the road. I'll forget about that 9 mile run that almost got the best of me. I'll forget all about those 4:30am Saturday morning wake up times, because that feeling all runners are chasing at the end of the race will turn all those negatives into positives, when I've crossed the finish line and have my second half marathon medal swinging from neck, I'll be dreaming about the next race day. A cool front is moving down early next week, hello perfect timing, and I'm feeling very optimistic about putting in a PR. I've had a great feeling about this race from the very beginning, and I just know all that hard work will pay off!After the half, I pick up with full marathon training week three, hello I must be crazy. I love having this focus to place my energy and challenging myself against the road each day.
I did complete Jillian's RIPPED in 30, and I enjoyed weeks three and four the best. I'll continue to throw these workouts in a few times a week. One thing I've learned about myself is that I do not like at home exercise.It's not my fave, more on that later. Short and sweet today, first of the month translates into lots of work for me! Happy Tuesday peeps!!





Daily Motivator