Good mernin! Thank you to everyone for all the support in regards to my run recap from the weekend. I knew that run would be fun to write about and that many would relate. Occasionally, a blog post resonates to a wider audience and those are always the most fun to post. I've felt a little bit in a blogging rut as of late. The summer was rough and we all know my ass won't stop complaining about the weather! Fall is finally baring down on us, power of positive thought, and the tides are a turning!
Lemme see how many cliches I can get up in dis post.
In addition to completing
Jillian's RIPPED in 30
and training for
half marathon numba 2,
I'm linking up with
Amber
for Get your Shit Together September! For me, GYSTS is something I'll say to myself every time I want to shove my face into a bag of peanut butter M&Ms or try to convince myself one little 1500 calorie daiquiris won't hurt anything,
as if!
.
NO MA'M! it's Get Your Shit Together September!
I will never publicly admit to how much I talk to myself.
Only child syndrome
I'm super excited to participate in Amber's challenge over at
Crafty, Healthy, Mommy
, for Get your Shit Together September
hastagdat.
It seems the summer was really hard on most as a whole, and it's time to put the breaks on the gain train and refocus!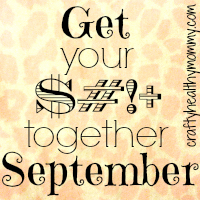 If you don't follow Amber's blog you really need too. She's lost over a 100 pounds and I personally adore her story. Check her out here!
That's some motivation right there! Go Girl!
How do you plan to get your weight loss shit together in September?
Weekly Work Out Goals:
Monday:
Rest
Tuesday:
30 Minutes Cross Training
Strength
Jillian's RIPPED in 30 Week 2
Wednesday:
5 mile Run
Jillian's RIPPED n 30 Week 2
Thursday:
40 Minute Temp Run
Jillian's RIPPED in 30 Week 2
Friday:
Cross Training
Jillian's RIPPED in 30 Week 2
Saturday:
10 Mile Run
(True Confessions I'm terrified The weather is supposed to be sub-tropical. I shit you not that's what the weather man told me this morning! FACK!)
Sunday:
Jillian's RIPPED in 30 Week 2
It's blogging 101 that if you want people to continue to read, you gotta have pictures. I is sowwy. I've been really bad about taking selfies lately. My phone is still on the fritz. There may have been an incident with the freezer and the iPhone lately that didn't help matters... I have a long history of being really hard on cell phones. That's a great guest post for Mr. Noel.
Selfie from Saturday, I was trying to come up with something to post on IG but my adult ADD set in before I could get to ..... What song is playing?! I love this song, lemme Shazam dat