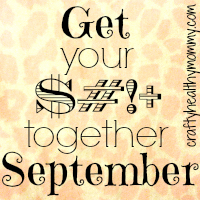 Get your Shit Together September update: My shit is together, lined up in row with military precision, and I am on fire! I kicked, clawed, and dug myself myself out of my summer slump and I am back on track. It feels phenomenal to say that with confidence. I love a fun hash tag #gysts and the camaraderie a group challenge creates. It's got me thinking forward to October and what can come next, and for me that's going to be what I'm calling The Chi-Town Challenge. I'll give ya'll more deets on that shortly. The Chi-Town Challenge deserves it's own post.
Jillian's RIPPED in 30 week three is in full swing, week three has by far been my favorite to date. True confessions

(I know I sound like such a fit snob saying this)

: I was extremely bored with weeks one and two. Neither was quite challenging enough and it left me feeling bored and unmotivated. She really steps it up in week three. However, my focus presently is on my half training, and I have been logging some serious mileage while keeping up with strength training. I wanted to do each Jillian work out 5 times per week, but it's been more like four each week. Maybe even only three this week. I got the opportunity to get my but whipped by my old personal trainer Thursday evening and I am taking it! At home work out DVDS just are not my favorite. Everyone who knows me in real life can attest to my adult ADD, and there are too many distractions at home. The biggest distraction being Mr. Noel, he thinks it's funny to lay on the couch, eat Doritos, and bark out things like, "You tell her Jillian! Step it up!" " Grrrrr bad kittyy grr grr grr" "Oh that looks like fun let me try"starts hopping around and eating Doritos "Hey what's for dinner!"
6 Week Six Pack and Killer Abs worked better for me, mainly because I could complete them in the morning before work and run in the evenings. However, right now I have to run in the morning

if she complains about the weather one more time I am going to unfollow her! and I'm placing my strength training in the afternoons. I probably won't do another home DVD program for awhile.

I could forget I said that in five four three two...

I like going to the gym. I like seeing other people. It just feels good to be there. I will not quit the DVD however, it's home stretch time!

Tomorrow I'm posting about what I do with all those Race Day t-shirts. It's about as pinterest-y as it's gonna get around here. Sorry for my lack of pictures and general word vomit in this post. I still have phone issues, and they won't be resolved anytime soon. That's directly related to that there Chi-Town Challenge.





Daily Motivator