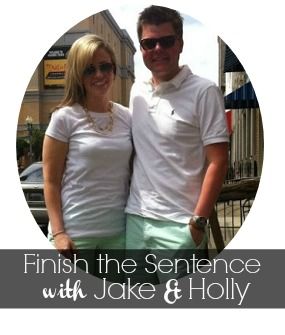 Finish the sentence with Holly & Jake today, because if I don't, most will, and no one will read my post anyway! Keeepin it real!
My happy place... is any time I get an hour to myself. I really value my alone time as it allows me to clear my crazy cluttered brain from a stressful day. I usually get this during my work outs.
Whatever happened to... If you don't have anything nice to say, don't say anything at all.
So what if I....
woke up at 5am, worked out, folded laundry, did dishes, wrote this blog post and was still 15 minutes late for work.
Suckkk ittttt
E! needs a reality show about...
people who actually have
redeeming
qualities
to offer society.
And that show just got canceled
My go-to fast food meal is...
Raising Canes! Box combo, no slaw, extra sauce,
diet
coke easy ice...
holler now I'm hungry
You might not know that I...
am an only child from a
single
parent home. My Mom is rock star, and I am a complete and total Momma's girl. More on that later...
The hottest quarterback in the NFL is... I'm supposed to say Drew Brees, because we are die hard Saints fans, but sorry Drew, I mean obviously he is hot, but.... My lady crush belongs to Tom Brady.
If I could... I would spend my whole life traveling the world discovering new places and
cultures
. I have always suffered from intense wanderlust.
My personality is awesome because... I will always stand up for what I believe is right, and have fun while doing it!
Twerking is....
pretty ridiculous looking. It's so
awkward
, it's eventually funny, because it's so
awkward
all you can do is laugh...awkwardly.
I think it's super gross when...
I could list several things my husband does daily, but I won't
embarrass
him like that...
(you're welcome honey)
Someone needs to tell Miley Cyrus.... I will not give this girl any more attention. I do emjoy her music though- she should focus on that!