Phew my head is spinning! It's been such a wild couple of days. I was out of town for my
Girl's weekend
and then off again to Indiana the next day, back home again the next, time zone over, time zone back, what day of the week is it? My crazay lady adult ADD is in OVERDRIVE.
I traveled to Indianapolis for work Monday afternoon, and I have to be honest- I was Nervous Nelly (are these names aggravating? I hope not cause I love them!) about this trip. I had a lot riding on this for me professionally, so naturally I wanted to put my best foot forward. It's propelling me to a bigger platform in my career and I'm happy to report that it went off famously. Unfortunately, that's all I can say about that here. However, I do have some more details for ya! Like my first Blate (Bloggers Date) with
Kara from PG Sisters!
My travel plans were slammed packed so we had a very small window to get in our date (thanks to Phil for loaning her out to me for our
secret date!
) but we were both determined to meet up!
Kara
and I email on the regular and have for quite some time so I had zero anxiety about meeting her in person. I just knew we would click! I was mostly stressed about inconveniencing her due to unknown travel times and my dying cell phone- womp! However, it all worked out!
Kara
met me at the hotel just as I was checking in and I was so excited to see her! She was exactly as I imagined she would be from reading her blog. Beautiful, kind, bubbly, welcoming, confident, and friendly! It was just natural! I felt at ease with her from the get go!She showed up and we started talking non-stop. It was like I was just meeting up with an old friend from college! I've heard people talk about blate's before and I always wonder,
yeah come on what's it really like in real life
... Seriously, meeting a friend from the internet was not weird at all. Zero Sarcasm. True Story!
Kara and Kristie
totally surprised me by giving me an Indiana welcoming gift! I was so flattered and touched. This was just beyond thoughtful. I had to take a picture of the gift in the hotel as I didn't know how long it would be before I started snack a lackin on their present, and I did just that. The Apple Pie Quest Bar was da bomb, even without heating it up first! Thanks for the afternoon snack ladies! I have been itching to try Justin's Almond/ Hazelnut Butter and we don't have Kroger at home. I feel like I got my hands on something ultra exclusive- oh yeahs!
Seriously how lucky am I? THANK YOU!!!!
Kara
took me to this little place call
Woody's Library
a few blocks from where I was staying. Thankfully, they had food cause I was hangry! They even had a gluten free menu- winning!- I ordered the salmon and double asparagus- it was delicious I also had two vodka water's with lime. Hey now, it had been a long day!
Before we knew it, we were the only people in the bar and it was 11 'clock. Whoops! I seriously could have had another drink and continued to Chatty Cathy her ear off. I hope next time I'm there I have more time and we can get in a work out! Maybe I'll even get to meet super busy,
I literally have no idea how she does it all,
super Mom
Kristie
too! I get the feeling
Kara and Kristie's
entire family is freaking fabulous. I really enjoyed hearing Kara talk about her husband and family, it's obvious there is a lot of love there! Fingers crossed next time in Indy I get to spend more time with her. I have very high expectations for future blate's now! I could talk about this all day...let's be real I could just talk all day.
Kara and Kristie
are both running their first half marathon on Saturday, be sure to head over to their blog
PG Sisters
and wish them luck (even though they don't need it-- they're both seriously prepared) Ya'll are gonna rock that half!
Tuesday morning I woke up at 4:15am, and headed to pound out a work out on the treadmill. The hotel fitness center didn't have enough weight training equipment for me to do the scheduled circuit training, so I switched out and completed 5 miles on the treadmill. I loosely followed my favorite
55 minute incline walk.run program from PB Fingers.
I say loosely because I've increased the run sections and speed. I've also upped the base speed to 4.5. Never be afraid to challenge yourself!
Sweat every day!
Then it was shower and work mode. Insert crazy, wild, busy day, including running in the airport. I had continental breakfast at the hotel- a scrambled egg with a dab of salsa and an apple. I snagged a banana for the road with a cup of coffee. I had a working lunch where we ordered out. I chowed down on a plain salad with salmon no dressing. Determined to make it work and I did. Where there is a will there is a way! Lucky for me, there was an empty seat next to me on my long flight so I got in some ZZZZs. I was cool whipped. Selfie in the hotel to start the day-
Tuesday was long but productive day. I enjoyed my little visit to Indianapolis immensely! Hopefully, I'll get to go back a little longer next time. However, there is just no place home! Don't we all feel that way? Home is where your heart is.
Don't forget today kicks off May Meltdown with Ms. Michaels! Which DVD are you rocking out today!?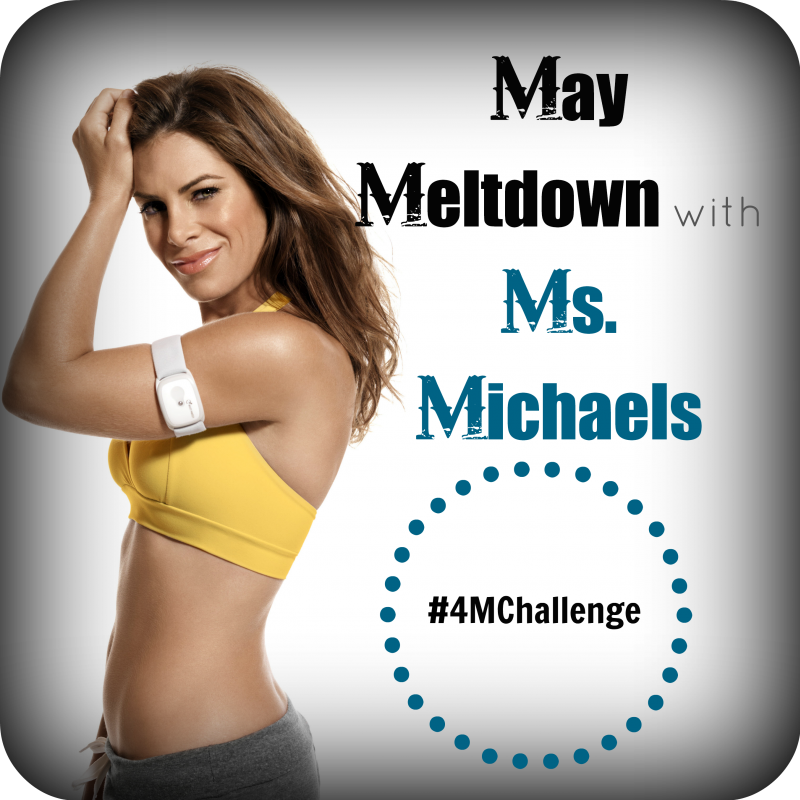 May first- lady guns out! It's going to be an AWESOME month!!