This morning I am linking up with the beautiful Skinny Meg for her series Work Out Wednesday (WOW)- fun how that worked out huh!? Be sure and head to her blog today where there will be many different work outs to browse and click though!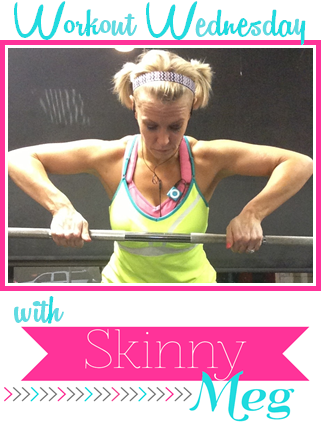 Presently, I'm focused on increasing over all body strength, building more lean muscle mass, there for decreasing fat. Currently into my third week of isolating muscle groups and concentrating on lifting heavy! I am still completing cardio daily, I don't think I will ever lose my need to sweat and work up endurance in this fashion. I LOVE a cardio circuit routine. It's a beat down for boredom and helps to build muscle while decreasing fat and increasing endurance. As a runner- maintaining endurance is essential.
Tuesday evening was back & shoulder day, which I peppered in with two rounds of twenty minute cardio sessions. Right now I'm thoroughly enjoying lifting in Super Sets. Umm what's that?
Work Out Break Down:
20 Minutes Stair Climber- Aerobic Endurance Level 5
6 Minutes Warm Up (Regular Walk)
Alternating Minutes through Minute 10
Double Step Leg Extension Minutes 6,8,10
Double Step Minutes 7,9
Around the World Walk
1 Minute Side Right Minutes Minutes 11, 16
1 Minute Back Wards Minutes 12, 17
1 Minute Side Left Minutes 13, 18
Double Step Leg Extensions Minutes 14, 19
Double Step Minutes 15, 20
Repeat through Around the World
Back Strength in Super Sets
12 Dead lifts
12 Upright Rows
Repeat Twice
12 Flys
12 Rows
Repeat Twice
12 Lateral Pull Downs
12 Seated Rows
Repeat Twice
20 Minute Cardio Circuit- Incline Walk
Speed 4.5
Incline 14
I like to move it move it
Shoulder Strength in Super Sets
Isolated Lateral Dumbbell Side Raises
12 Per Side Repeat Twice
12 Per Arm - Standing One Arm Dumbbell Press
12- Push Ups
Repeat Twice
Isolated Lateral Dumbbell Side Raises
How do you know how much weight to use? Don't be afraid to play around with different weights. My personal guideline is that each set of 12, the last 2-4 reps should be very difficult to complete. If it's too easy to lift, it ain't heavy enough!
I swear I'm not always a sweaty mess.....