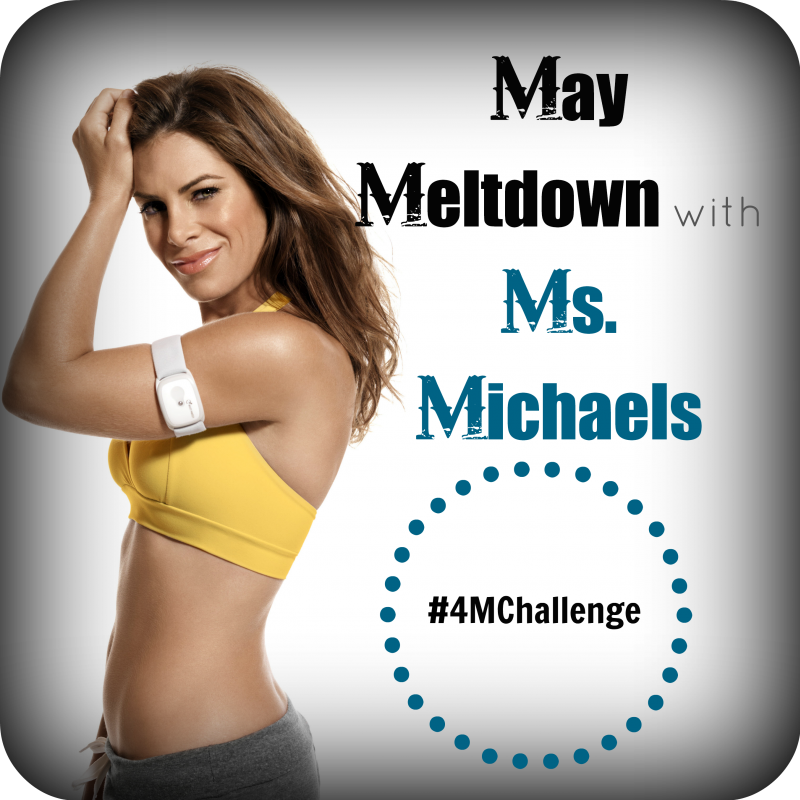 6 Week Six Pack is all wrapped up= it's time for a new challenge! Last week, Kyra over at
It Takes 9 Months
, emailed me about a final
Operation Red Bikini
push with Ms. Jillian Michaels, during the month of May, I knew I was all in!
Kate
,
Kara, Kristie
,
Meredith
,
Kassie
, and I have all committed to a month long Jillian Challenge. We're all going to complete one of Jillian's DVDs and report back results at the end of the month, which also happens to be the end of #operationredbikini Hello summer time! I'd like to encourage all of you to join in the fun! Grab a Jillian DVD, the button above, and participate in May Meltdown with us!
We'll be using the hash tag #4MChallenge to support one another via
Instagram
I've selected Jillian's new ab DVD
Killer Abs
because
one
it just sounds badass and
two
I want to keep my momentum going from
6 Week Six Pack
! I'm committed to 5 work outs per week in addition to my regular work outs. I'll post pictures at the end of the month! Be sure to check out the other ladies participating! This is a fantastic way to review DVDs and get new ideas for work out routines! The first isn't until Wednesday so you have plenty of time to run down to Target, grab a DVD, post this button on your blog/
Instagram Account
and join in the May Meltdown fun!
I personally can not wait to get started Wednesday morning! Overall, this week is going to be a little more challenging for me, as I'm traveling for work. I consider this to be an added bonus to test my resolve :)
Biggest business trip bonus?! As soon as I found out I'd be traveling this week, I just knew I had to set up a face to face with one of my favorite blogging friends! Hands down, my favorite part of writing this blog, is the opportunity it's afforded me to meet so many wonderful people across the country! I'm going on my very first Blate (Bloggers Date) this evening with the fabulous
Ms Kara from PG Sisters!
I'm going to be in Indianapolis for less than 24 hours, however we are determined to meet face to face! I'm so excited to me her in person as we frequently email through out the week support one another's goals!
The PG Sisters
quickly became one of my favorite blogs to read and girls friends in general! WOOP WOOP! Seriously so excited about our Blate! I'm sure
Kara
and I will keep ya'll posted via
IG!
Weekly Work Out Breakdown::
Monday-
Cross Training/ Booty Burner- 5am
(No Excuses- got it done!)
Tuesday-
Treadmill Circuit Training
Wednesday-
Killer Abs
6-7 Mile Run
Arm Work Out
Thursday-
Killer Abs
Evening Weight Training
Friday-
Treadmill Incline/ Speed Work
Killer Abs
Saturday-
Sole Sistas Speed Training
Killer Abs
Sunday-
Killer Abs
What's your favorite Jillian DVD?
Have you ever been on a Blate?
5am Monday morning work out? Check! Thank you exercise, fueled and ready to take on the day!
Air Port Survival Gear- Comfort First!