This morning I'm linking up with
Mel at 4Kottez
and my girl
Kate at the Widgeon Nest
to talk about pre-first marathon fears. Kate had the wonderful idea to
compile first marathon recaps
for those running their first half marathon in the future! Personally, I could not get my hands on enough information pre half marathon and all during training. I think Kate's idea is incredible!
Here's the link to the collection of half recaps thus far.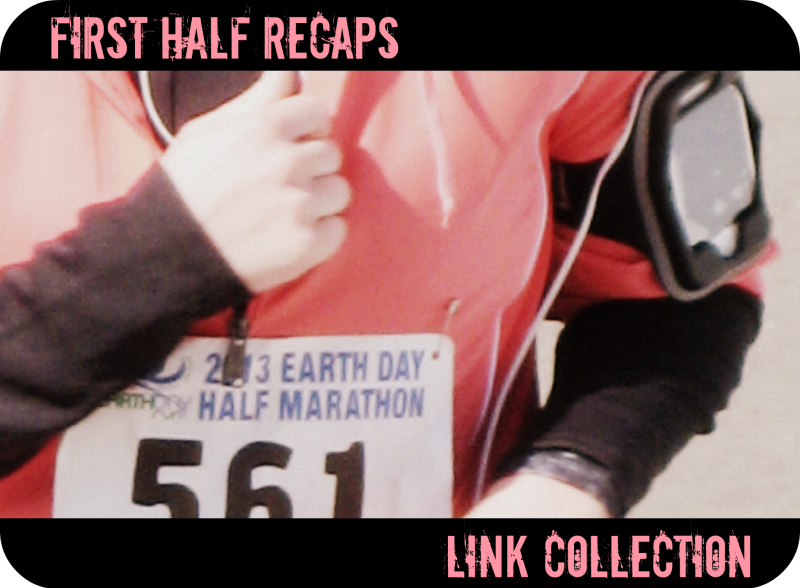 Given the opportunity to elaborate on the incredible
first half marathon experience
was something I wanted to JUMP on. I honestly,
LOVE
to run. It gives me a feeling, a high, a pep in my step that carries into all aspects of my life that I have never found in any other activity. Running gives me clarity Running gives me peace. Running challenges me. Running has changed me. Running has transformed my life.
Heyyy Crazay Laday!
I haven't always loved pounding the pavement.
Oh no no.
Even this time last year, I wouldn't believe I had written the above paragraph. My love affair has evolved and grown stronger over time. Each mile making me
better, faster, stronger.
I really began to appreciate running while training for my
first 10k last fall.
After the
10k race experience
, I was hooked. I drank the kool-aid. Addicted to training, the endorphin release, the feeling that comes along with accomplishing what your body couldn't have accomplished three weeks prior-
it's on another level.
Post 10k Training, I immediately lept into the
half training experience.
My experience with training has been different from most. I'm part of a running group through my gym (Personally Fit's Sole Sistas), and this group of women is a truly special bunch. Everyone is supportive and helpful of one another, and we've all become fast friends. I began looking forward to the group runs because I'd get to spend time with my favorite people! Surrounding myself with friends who have similar passions has been critical in my success. A few of the Sole Sistas had previous half marathon experience some marathon experience, but a lot were just like me this year. Brand stinkin new runners. Naturally, headed into our first half marathon, and first large race, we all had a lot of questions/fears/anxiety.
For me personally, if I have a question, I'm going to ask it. I'm not shy about
looking stupid
. I'd rather get answers.I asked lots of questions, to basically anyone I knew who had had this experience previously. My biggest concerns heading into the half marathon:
1. Will my body be at peak performance on race day?
My last
long run pre-half marathon was a 12 miler.
I was terrible.
With a capital T.
I was so physically exhausted after this run, I felt drunk. Literally. Not in that fun
ohhh I love tequila
kind of way in that
oh snap I had to much and I'm going to embarrass myself
kind of way. It was not a fun feeling. Mr. Noel picked me up, as it was a destination run, and I literally collapsed into the car. "
How was your run?!"
- Mr. Noel
"
ugggghhhhhh"
- Me "
Nice use of descriptives there Leigh Ann"
- Mr. Noel
insert mean muggin' female stare-
me
From mile 8 on wards during that run, I thought I wasn't going to make it. It was painful. It took me 2 hours and 2 minutes to run 12 miles, at that pace, I wasn't going to accomplish my sub 2:10:00 first half pace goal.(Which I did do on Race day) From reading my blog, it should come as no surprise that pace is a huge focus for me.
It' s the real challenge for me. Where I get my big kicks.
During training, I relied heavily on anti-inflammatory medication , which I have stopped taking, and it's all gravy now baybay. Training racks up a lot of mileage on the body, especially when it's so very new- hello first timers! However, it was necessary for me to get stronger. The key to peak performance on race day was rest. REST before your race! Do not ignore those rest days, they are essential!
2. How early do I need to be down in my corral at the start?
My Race kicked off at 7am. My husband and I stayed in a hotel literally on the start the line. The plan was to meet the Sole Sistas in the lobby at 6am. I think I actually made it down to the lobby about 6:15am. I had to dance around my hotel room pumping my fists and singing the Eye of the Tiger first.
Priorities
I'm not kidding. That's what Mr. Noel and I did. It's kind of our tradition now. I can be ridiculously enthusiastic. When I'm around someone else with similar energy, BAM it can get CraYzaY! RAWR!
Eye of the Tiger!
After getting down to the lobby, squealing like wild baboons, spraying one another with glitter, stretching, warming up, preventing a few nervous break downs, taking TONS of pictures, Sabrina and I made it to our corral about 15 minutes before the race. We hopped a barricade to get in place. There were no staff or volunteers directing traffic, we just figured that ish out. We had plenty of time. Know your city, know your commute time to the start. I like to wait in the start chute for 15 minutes prior to start time.
3. How much money do I need for the Expo?
Hello, shop-ping! This was a legitimate concern for me! The running expo was as much a part of my first half marathon as the race itself. I had burning questions women
need to know.
Will they accept debit card? (YES) Do I need cash? (That's your bidness) What all are they going to be selling there? I knew I wanted some official Rock N Roll gear. I left with a Brooks pull over that was pricey but worth the money to me. I also picked up my coveted 13.1 bumper sticker and a cell phone cover. Running expos are rife with gear. Some new stuff, some old stuff, lots of over priced stuff. All in all I spent about 100 bucks there. I sure hope Mr. Noel never reads this post.
4. What should I eat before the race?
My group carb loaded the night before. Heavy dinner. I had a grilled shrimp pasta with whole wheat penne. If you're staying in a big city- make dinner reservations. 20,000 runners out to carb load makes it difficult to get a table.
Hangry Gina
may just come out.
Prevent dat.
Most important aspect on Race Day- Do not change a thing. Don't wear new shorts, new shoes, new socks, new bra, new belt etc. Run in the same gear you trained in, and of course my best advice- bring a rock star attitude, enjoy the experience, it's life changing!
Be sure to head over to
Kate's blog and read some of these first half marathon experiences!
Tomorrow I'll post Jillian Michael's 6 Week Six Pack Results! Get Excited! (You know I am
(Inside Jokes)
)