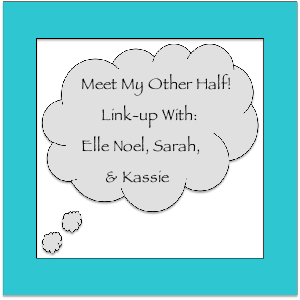 Bonus Questions:

What do you like best about the new Leigh Ann? -
Melissa at My Life as a Folz
Melissa, I was hit with this question first and it was by far the hardest. I have always loved her for who she was and will love her for what she has become. Her confidence is now through the roof. If there are any men out there that read this you know what that is code for. There is a direct correlation between a woman's confidence and the amount of money she spends on cloths. Would I trade it, no.
Do you know how famous your wife is in blog land? (you are far to kind
Kara
)
I have a feeling Kara. I guess it will hit home when someone points me out as Elle Noel's husband or I see a talk about it on Good Morning America.
How proud of her were you when she finished the half marathon?
I was extremely proud of her. She literally went from couch to half marathon to in less than a year. The preacher said when we got married that the two were now one. This meant that I ran a half marathon too!!!
How have the latest revolutions on Macaroni and Cheese effected you emotionally? - Great Question Sabrina.
Sabrina, I have read about the latest attack on the coloring in the cheese products the makers of the greatest meals in a box, Kraft have had to put up with. I have seen many incarnations of Mac n Cheese fly through the shelves during the 30 plus years I have spent on this earth. The original will always be tops on my list. Sure there have been advancements such as Instant mac, white cheddar and such, but there is a reason they have not changed the original recipe. If they go New Coke on my Cheesiest, I would probably start my own blog and move to what ever country has still not outlawed the yellow cocaine. This was the first meal I was allowed to cook on the stove. This question has gotten me so riled up, I will probably not be able to sleep tonight. Thanks Sabrina, I hope you sleep well.
Follow my blog with Bloglovin