Today I'm linking up with Holly and Jake for a Finish the sentence Questions & Answer! I missed the last link up and didn't want to miss out on the fun today! It's gonna be a two post day ya'll. Tomorrow's Questions & Answer Link Up details are below and look for a
Ready Fit Meals
Review shortly. You do not want to miss that!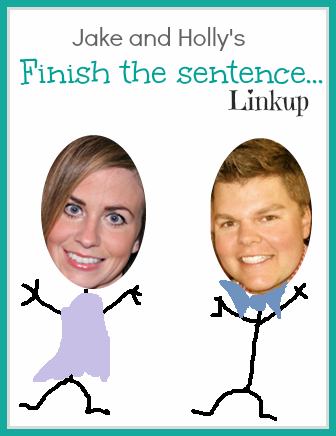 1. If calories didn't count, I would eat... Chicken Fried Steak swimming in white peppered gravy with a double order of mashed potatos and Texas sized garlic toast, molten chocolate cake for dessert, have three strawberry margaritas and grab T-Bell on the way home. What? Ya'll thought I was joking about that former fatty business? Sheesh now I'm hungry.


2. On my Prom night.... I wore white, because that's what you do as a Senior in the south, I had turned 18 three hot minutes beforehand, and I felt like my life was about to sky rocket with less than a month before high school graduation.
3. When I go to the store, I always buy... frozen boneless skinless chicken breast. We eat a ridiculous amount at my house.


4. Family functions typically... involve laughs, lots of eating, board games, and more than a few bottles of wine. Until someone starts talking politics. Then we all go to bed angry. Even though we all agree. It's a little crazy.
5. I think my blog readers... have become my friends. It's my favorite part of writing this blog, meeting so many wonderful people each day. I only hope to get to meet a few "IRL" sometime soon!


6. I'd much rather be..... running.
7. I have an obsession with.... Champagne & Frozen Fruit, The Duchess of Cambridge, Instagram, Shopping, and making the bed in the morning. A frequent domestic dispute.
8.
My work friends....
are forever tempting me with T-Bell lunch. Tisk tisk!
9.
When I created my Facebook account....
it was just for college students and it was awesome. We could post pictures funneling beer and write rambling status updates without fear Mom would read it. Now a days, I neglect my personal account nearly all together (Thanks
Instagram
) but
Elle Noel does have a Facebook page
. Gotta get in that shameless plug!
10. My least favorite word is... any excuse. I'm not buying what you're sellin.


11. I really don't remember.... what my life was like before I met my husband.


12.
Justin Bieber....
needs to keep the work out jams coming. I'm loving it!
Tomorrow's link up Details:
Sarah
,
Kassie
, and I are teaming up for the Husband/ Girlfriend/ Signification Other/ Best Friend/ Whoever you want to throw in there with you link up! You can respond in Blog or Vlog format. We're excited to get more insight into all our favorite bloggers!
1. What are your thoughts on your wife's blog?
2. Do you know what IG stands for? How about OOTD?
3. How long would you say you've been together?
4. Does her working out and eating healthy make you want to join in?
5. Is there anything you can do to inspire him to workout/eat healthier?
6. What do you love best about fit/ healthy life?
7. What do you like least?
8. How long did it take for you to agree to answer these questions?
Post on Ready Fit Meals coming shortly.....