Good morning!!! It's Friday ya'll, that means we did it again. Another awesome week down the hatch! I have three things I wanna talk to ya'll about today!
Weekly Weigh- In and Linking up with my girl Lora!
Think Thin Give-Away- Holla for a Dolla!
Friday AM Circuit Training Break Down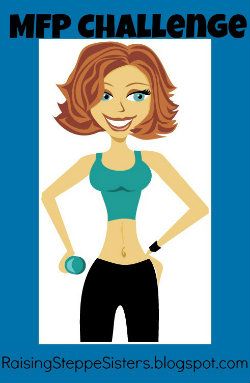 How many of you are using My Fitness Pal to log your food and daily work outs? I've been a consistent MFP user for nearly a year now, and it's an intricate part of my daily routine. My girl Lora over at
Raising Steppe Sister's
challenged herself to two full weeks of logging activity and keeping her calories under her daily goal. Hello weight loss Rock Star! I'm excited to go through and see every one's results!
My weekly weigh-in- I did not lose this week. I'm holding steady at 158.9. I'm totally cool with this status. I took this week off of strict no carb/carb days and I've been sticking a spoon in the crunchy peanut butter jar far too often. I know why I didn't lose. The long and short is that I'm consuming to much protein I'm eating the peanut butter as a way to get in my daily fat, which I had some issues with awhile back, not getting enough daily fat with my high level of activity was causing some other issues for me, hence the peanut butter. However, coupled with my protein bars AND peanut butter protein is putting me over the edge. FYI- too much protein = weight gain. I have no desire to body build. Long, lean, fat burning machine, that's my goal. That said, I have noticed I'm building significant muscle definition so I'm not complaining about that. Anywho, this week I'm going to try and get my daily fat in some other way, via almonds or butter, something like that.
How did you do this week?? You can find me on My Fitness Pal
here
. I share my daily diary with my friends.
Second order of business and probably the reason why you're here-
Think Thin
give-away! I eat a Think Thin bar daily. If you follow me on
Instagram @ellenoelfitness
you know this as I'm constantly posting what foods I'm eating and Think Thin bars are in regular rotation. I get so many comments from ya'll concerning where to buy Think Thin bars and which flavors are my favorites.
Kassie
and I paired up with Think Thin to spread the love around. My least favorite part about blog give aways is that there is only one winner. Pooey. Sooo I'm gonna make SIX of you winners. You'll receive an assortment of five Think Thin bars from me with a little Elle Noel love note to help you reach your Operation Red Bikini goals. I know you're having a hard time containing your excitement right now. Deep breaths.
a Rafflecopter giveaway
All you have to do is be a follower of this blog and leave a comment below. If you head over and like
Elle Noel on Facebook
, that'll score you extra brownie points. You have until Wednesday, January 23rd to keep getting your name thrown into the hat! Good luck champs! (See plural winners- ain't that just more fun?!)
Last order of business, my latest obsession. Treadmill circuit training. Tuesday evening I did the Jessica Simpson leg workout via
Pinterest
with my sister from another mister Madeline. I ran three miles then did this crazy fun circuit training routine, and I really feel like it helped me on my five mile run Wednesday evening!
It got me thinking about beating dreadmill boredom and burning serious fat in the process. I set out to make up my own routine. A full body circuit training burn, and treadmill circuit routine.
10 Minute Run-
I set the treadmill at a pace that is easy for me to maintain. A pace I feel like I can comfortable run at for long periods of time. For me this varies between 5.5-6.5 pace. I play around in between those speeds to keep myself from getting bored. Round one had me at a little over a mile in 10 minutes.
3 x 18 reps with 8lb dumbbells- hold a lunge position with a bicep curl. Three rounds per leg
2 x 18 Rows in a squat 10lbs dumbbells
2 x 18 horizontal and side lateral raises with 5lbs weights in a squat position
2 x 18 tricep dips and tricep extensions with 20lbs
8 Minute Run-
set between 6.0-6.3 ended at just over 3/4 of a mile
2 x 18 Kettle Bell Swings (15lbs) & Squats with a shoulder press (8lb dumbbells)
60 Walking Lunges holding 10lbs dumbbells
2 x 18 Squats holding 10lbs Dumbbells
15 x 2 Pulse Lunges per leg
10 Minute Run
- Just over a mile at 6.0-6.5
2 x 20 with 5lb weight- Kneeling Glute Press, Upper Glute Pulse, Fire Hydrant (2 rounds each leg)
30 x 2 weighted crunch & Russian Twists
30 x 2 Bicycle Crunch, Swimmer Kicks, Criss Cross Kicks
One Minute Plank Pulse High
One Minute Plank Pulse Low
One Minute Plank Low
5 Minute Cool Down Walk 4.0
This whole routine took me an hour and 20 minutes to complete. To say I was a tad sweaty would be an understatement. I left feeling extremely accomplished and ready to grab the day by the horns- BOSS UP!
Phew what a burn. I'm tempted to go back this evening and do it all over again, however, I have a 9 mile run in the morning. I have to be very careful not to over train while I'm in the middle of half marathon training. I don't have time for the over training sluggies. I need tons of energy for the run tomorrow. I am so excited for that run. It will be longest distance to date!
Phew this was a long winded post! Weigh Ins, give-aways, and super fun circuit training?! It MUST be Friday! Hope you all have a wonderful day and a seriously fun weekend!
Ahh I just feel fabulous today :)
Daily Motivator