Good morning and Happy Monday! New day, new week, new chance to get everything right! If you're new round here- you need to find me on
Instagram
@ellenoelfitness and
Facebook
so you can get the full extent of the Elle Noel over sharing experience. Seriously, you don't wanna be missing out now!
This past weekend was up there in my favorite weekend ever category. It was quite and relaxing and sometimes that is exactly what the doctor ordered! My man and I got in 12.3 miles on the bike yesterday afternoon- we had a goal of 10 miles but we took off without a route and just enjoyed the ride!
We finished off our weekend with a movie, Les Miserables. I thought the movie was incredible. Extremely well acted and directed and I LOVED the music. I've seen Les Miserables on stage on multiple occasions, so I knew what to expect. However, this was not a "manly" movie. Within the first five minutes I thought- Mr. Noel is going to kill me for making him sit through this. I had forgotten exactly how much music went into this production. Little to no speaking- it's straight song and dance peeps. While I ended the movie moved to tears, he turned to me and said, "I've thought at least 8 times about stabbing myself in the eye with this straw". Mr. Noel's official Les Miserable review...
That was all he got out of that beautiful move- le sigh. Whateves, I sat through The Hobbit a few weeks ago with him (and fell asleep TWICE), so this was payback time. I've been working to incorporate singing into our casual conversations as well. Ya know just to make sure I never get asked to sit through another Hobbit movie again. I'm crafty :)
Ok ok, I know ya'll don't give a hooty hoot about our movie reviews, it's time for what ya'll really come here for- the Boss Lady plan for the week!
Monday-
R.I.P.P.E.D
No Carb
Tuesday-
3 Mile Speed Training Run
30 Minute Strength Training
No Carb
Wednesday-
4 Mile Run
Strength Training
Carb
Thursday -
3 Mile Run
Strength Training
No Carb
Friday-
50 Minute Cross Training
20 Minute Strength Training
No Carb
Saturday-
Run Distance TBD
Carb
Sunday-
Rest
No Carb
Our group run distance Saturday is up in the air. The schedule calls for a 5k race however, no one in the group really wants to back down on mileage. I'm following the
Hal Higdon
Half Marathon Novice 2 training program. That's the beauty of running with this group, anything goes. Whatever floats your boat is always an acceptable course of action. If we decide to run a long route in lieu of the 5k I'll most likely do another 8 mile run and aim to improve on time and managing my pace.
Kassie
and I are hard at work to bulk up the prize pack for Operation Red Bikini! I've got my bikini choices narrowed down- and I"m ready to purchase! Have you picked out your goal piece? Do you need help setting a goal or picking a goal piece? Do you have a plan?Talk to me, I want to help you! May 31st will be here before your know it!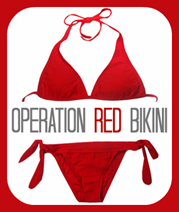 Lastly- Who watched the Biggest Loser last night? Is it weird that I want to go t the Ranch- as a vacation? Working out with Jillian or Bob looks like a ridiculous amount of fun to me. I know I know- Heyy crazay laday #gangnamstyle
Wishing each and every one of you a fantastic Monday! Make it great!
Daily Motivator