Good morning and Hallelujah!!! The Holiday season is OVER!! Never before have I been more pumped to usher in a New Year and a brand new start! The Holidays were rough on me, we all struggle at times and taking away my routine coupled with lots of social time and very little structured time was a recipe for dieting disaster. Putting it all behind me now. I know 2013 will bring great things for me. I'm looking forward to finally accomplishing my goal weight. I had my
"a-ha, oh shit, I have to do something about my weight"
moment in January of 2011. Yes. That means I've been working at this goal for TWO years. I'm now five pounds away from my goal. Pre-Christmas feasting/binging/give me more cheesecake I was four pounds away. Overall, a one pound gain over the Holidays isn't all that bad. I"ll take it. Back to business.
First things first- let's talk Operation Red Bikini
My #Operationredbikini Goals-
Achieve 18% body fat
Wear Hot Shorts to Run (Yeah like volleyball player spandex biz nitch)
Rock a Red Bikini (Pictures & Previous Summer Shots to be Included)
What are your OperationRedBikini goals?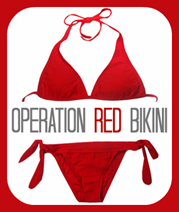 I started working on one of my 2013 goals on New Years Eve. I want to be able to do a pull-up. Lift my own body weight, 10 times over, completely unassisted. Mr. Noel gifted me a Pull Up Assist though
Beachbody.
It's a simple device that can be used in various resistance training. I can attach it to almost anything, anywhere. I challenged myself to a set of 5 tough low resistance pull ups. When my arms were burning rapid fire, I made it a little easier and did 5 more then repeated. My arms and back are super star sore today. I love when I feel sore. It's that awesome, I'm becoming a stronger smaller version of me feeling. I'm focused on sculpting my shoulders and back- cause I wanna look fire come #operationredbikini time!
I just posted what I had for breakfast on
Instagram.
Are you following me there? You need to be, I love over sharing with you guys :)
Here is the
link to my egg white breakfast muffin recipe.
Quick, easy, and so delicious.
Work Out Breakdown for the remainder of the week:
Wednesday-
3 Mile Speed Training Run
30 Minute Strength Training
No Carb
Thursday-
4 Mile Run
30 Minute Strength Training
No Carb
Friday-
50 Minute Cross Training
30 Minute Strength Training
No Carb
Saturday-
Half Marathon Week 5- 8 Mile Run
Carb Day
Sunday-
10 Mile Bike Ride
No Carb
#OOTD (
Instagram
slang for Outfit of the day)
Find me on
Facebook
,
Beachbody
,
Pinterest
, Instagram

@ellenoelfitness

,

Keek,

and
My Fitness Pal
!
Daily Motivator