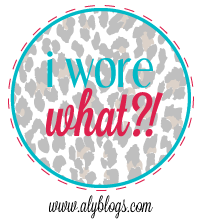 This morning, I'm linking up with Aly to discuss fashion faux pas, and I wore what!? If I had the time this past weekend, I would've found lots of great oldy 80's and 90's faux pas for you, however since I've been social net working since high school a la Myspace, I've got tons of more recent stuff for you to laugh at!
Post Senior Prom 2005, I'd turned 18 three minutes ago, and where I'm from, that means you get to go out to the bar! Ah Louisiana Love. It's also tradition for seniors to wear all white to prom, so we decided it would a great idea to wear all white to a night club post prom. Screams adult right? This ain't P.Diddy's White Party girls. I immediately regretted this outfit.
Next, enter Myspace and the fake silky shirt trend. I thought this was the funniest picture of myself. It was probably my Myspace profile picture for a year. For the record, I didn't actually go out dressed like this, just blasted it all over the Internet.

Continuing the silky shirt trend- I went out showing my mid-drift, in 2006. I thought this was a great idea since Britney was doing it. This was pre melt down Britney, when she was the hottest thing to ever roll out of Louisiana. In college- anything goes right? I remember asking my friend K Dub how the mid drift looked, and we completely supported one another's outfits, but I was concerned about sitting down. Ya know, this was college drunkarexia phase- I did NO working out. I still remember what K Dub said to me. " So don't do much sitting! Let's roll!"
More recent- January 2010. I spent roughly two years hiding my body underneath that black wrap. It looked dumb, and I was
always
hot.
There's a few secret albums floating around Facebook of my Bachelorette Party that was wild, crazy, going down with a bang true Elle Noel style. I thought I found a picture that wasn't incriminating of me and my MOH and made it my profile picture. All good till my Maw Maw saw her grand baby with a penis name tag on her boob. Ooops!
I can't wait to see all of your faux pas pictures, linking up sure is fun to do :)

This week on Elle Noel's to do list-
Weekly Work Out Goals
Fashion Post
Halloween Recap
Weekly Weigh-In